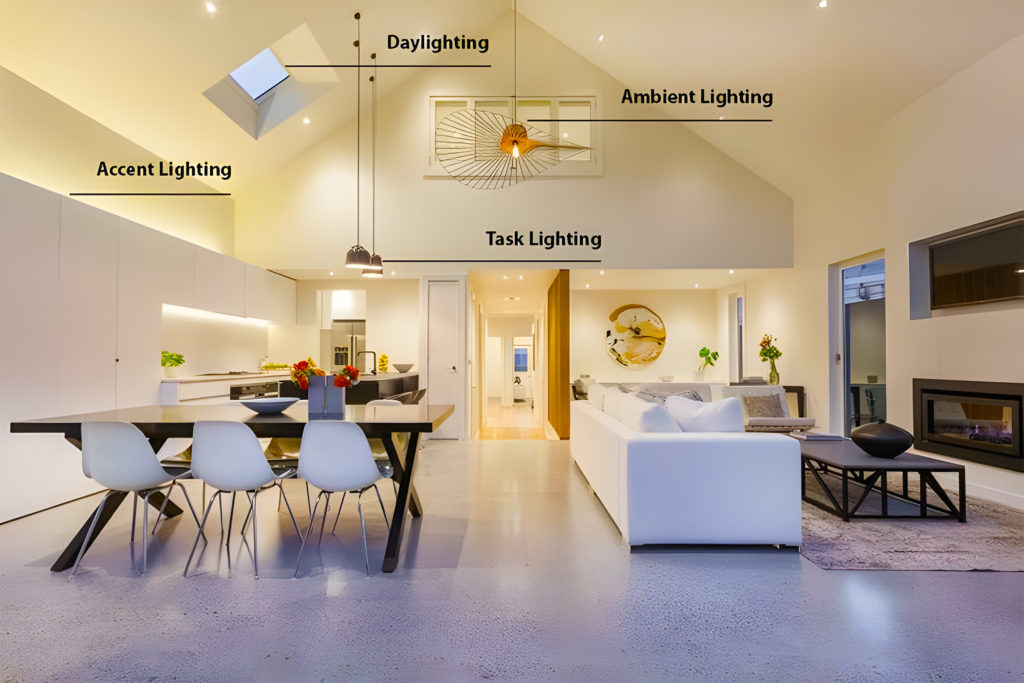 Table of Contents
The 4 Types Of Light
What are the 4 types of light that you can use in your home, you may wonder. Each one serves a different purpose and use. And the kind of lighting you choose increases the attractiveness of your home and makes it more welcoming.
The 4 different kinds of lighting are:
Ambient lighting lights up the entire room and serves as the basic source of illumination.
Task lighting gives light to a specific area so that it is highlighted.
Accent lighting that lights draws attention to something such as a piece of art or a collection of artifacts.
Decorative lighting (such as a chandelier) sets the tone of the room.
As you can see, lighting not only serves a functional purpose but also enhances your living space, giving the illusion of more space and better color management, apart from being welcoming. The right lighting in the right area is important for decoration, functionality, and visibility.
Ambient Lighting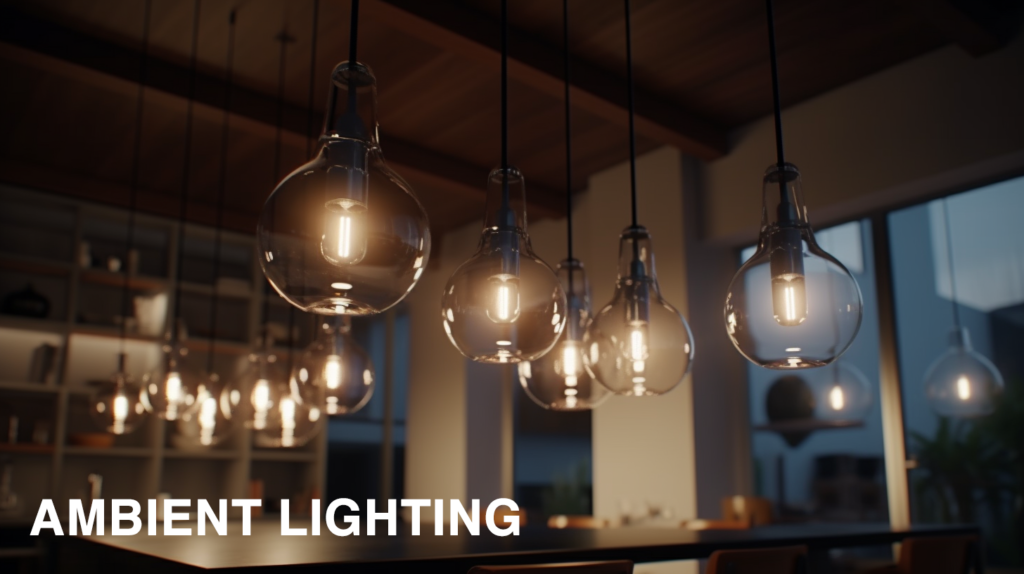 Ambient lighting is what provides illumination to the entire room. It is your basic lighting and usually dominates the entire room. Often, you just need to flip a switch the light comes on. You may have dimmers with this light so that you adjust the level of light that you need. You can consider ambient lighting to be the source of light, taking the place of natural light or sunlight.
Ambient lighting consists of
Ceiling-mounted fixtures that may be flushed or semi-flushed. These work best in large rooms where you need a lot of light such as the living room, bedrooms, and kitchen, and serve as the basic source of light.
Sconce or wall-mounted lights also provide illumination and may provide basic light in certain areas. They can light up paths such as doorways and stairways as well.
LED downlights are powerful lights best used singly in small spaces. You will need more than one fixture usually in larger rooms.
Floor lamps or table lamps when you don't want overhead lighting or can't put it. These lamps in different corners also provide ambient lighting and you can choose the wattage of the bulbs that you want. This lighting is quite a popular choice for hotels and rentals.
As you can see, you can choose from a range of different sources of ambient light that make your home a welcoming place.
Task Lighting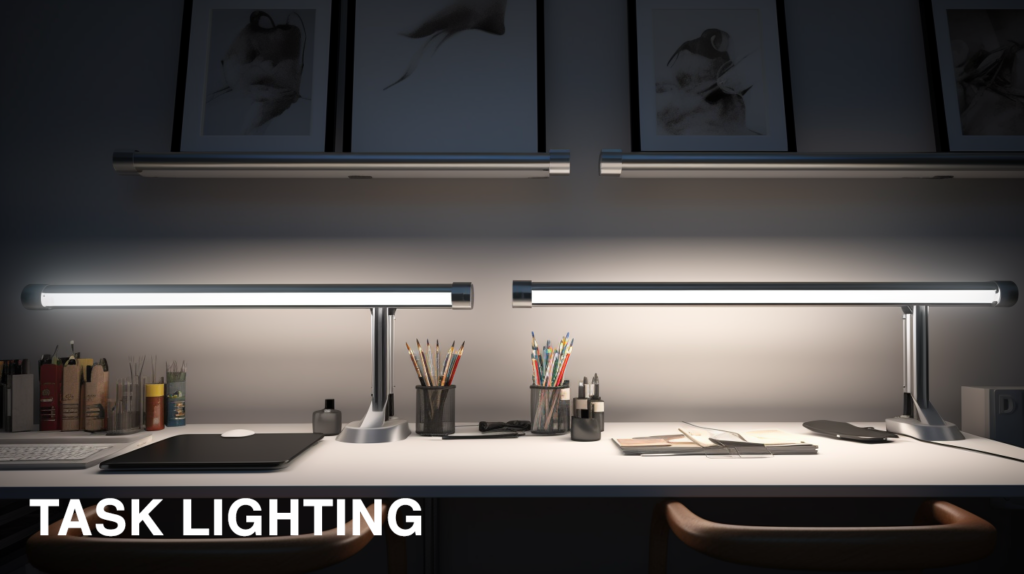 Task lighting is best used in specific areas to illuminate only that space. Task lighting fixtures are such that you can see exactly what you are doing easily and without eye strain. When you are working in the kitchen or home office and you need to see what you are doing, task lighting comes into the picture.
In the study or work space it illuminates the work that you are doing. In the dressing room, it allows you to see how you are putting on your makeup. Task lighting can also be used in your home office, crafts space, workshop, and more.
Some of the task lighting fixtures that you can use include
Under cabinet lights such as in the kitchen, bar, and reading space to provide illumination to a working area.
Desk lamps can be used to light up your desk for paperwork and other work that can be straining to your eyes.
Recessed lighting consists of specific fixtures of different shapes and sizes that can be mounted on the ceiling and serve a similar purpose. Although recessed lights are considered to be both ambient and task lighting.
Lamps of different shapes and sizes provide illumination where you need it. Lamps lend a décor element to the room and unique lamps can also be a conversation or highlighting piece.
As the name suggests, task lighting is used for certain tasks. These can be used alone or along with ambient light present in the room. For example in the kitchen you may use ambient light for the entire kitchen and task lighting for areas that require more illumination.
Accent Lighting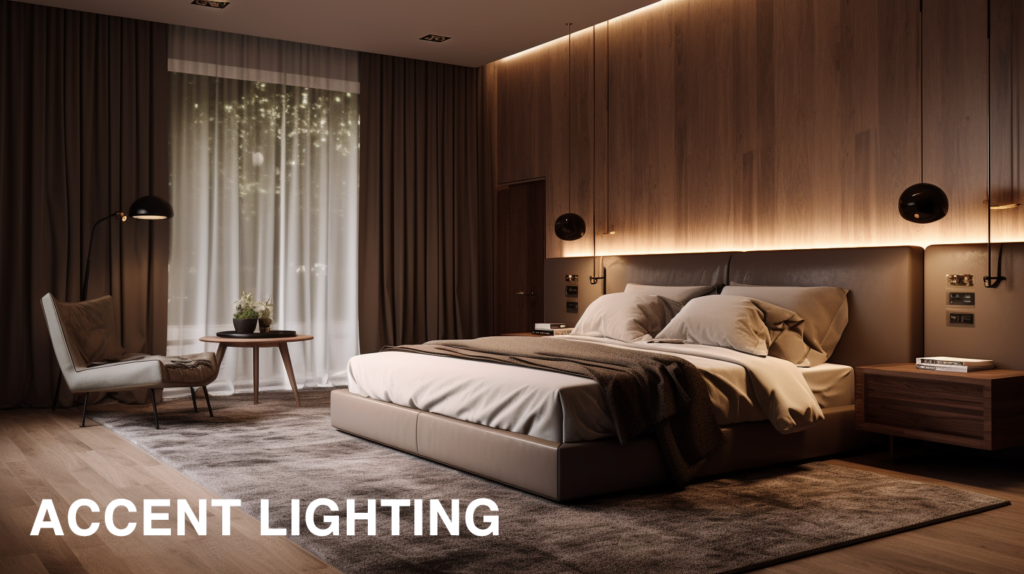 Accent lighting is used to add drama to a room or draw attention to a feature. If you have a great painting, you can use accent lighting to illuminate it and this may become the main focus of the room.
This kind of lighting comes in the form of
Recessed lighting
Downlights
Wall-mounted fixtures directed toward the object or area
Track lighting
LED strips
Any one of these kinds of lights can be used to draw attention to a space or area. You may even use accent lighting to light a bar or bookshelf, a work of art, a collection of photos, or an object you would like to highlight.
Accent lighting can also be functional and useful. It draws your and your visitors' attention to the area of focus. When ambient light is dimmed, it provides even more focus especially to edges or wall decorations.
Decorative Lighting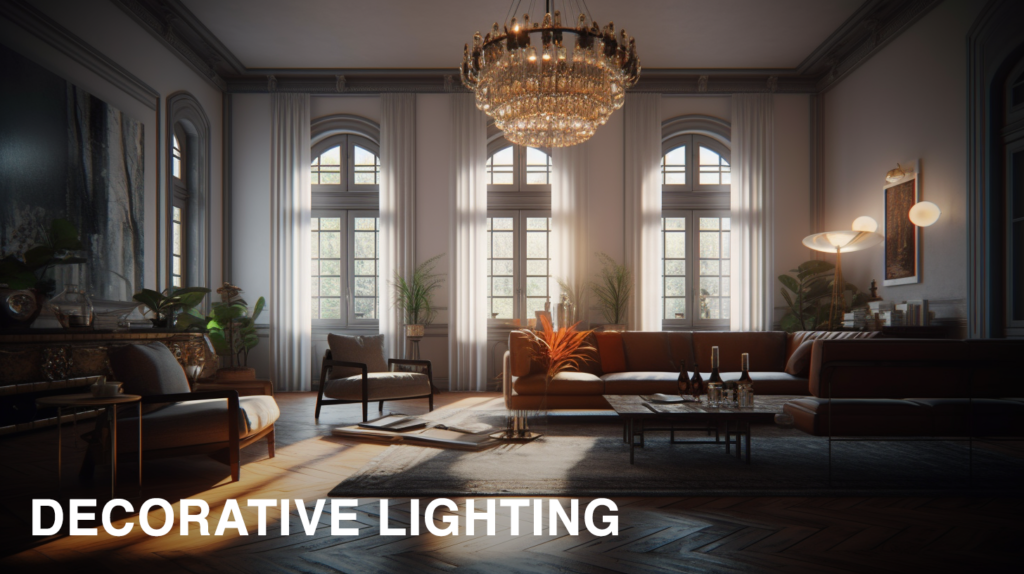 Decorative lighting is a very stand-out light that may well be dominating and a piece of art in itself. Decorative lighting can enhance the appearance of the room and act as a statement piece.
This kind of lighting includes:
Chandeliers that may be made of glass, crystal, or even faux pieces
Wall sconces of different kinds
Floor lamps
While decorative lights often give light downwards, they may also be used for upward illumination or direct lighting. Decorative light fixtures can set a mood and a tone for the room.
Why is the right lighting important?
Choosing the right kinds of lighting in your space is important for many reasons. Light can balance the play of light and shadow, give an illusion of space, enhance the color and décor elements in a room, and also serves as a mood enhancer.
Albert Hadley, a renowned American designer, said 'Design is defined by light and shade, and appropriate lighting is enormously important'. The design includes color, furniture, space, decorative elements, and, of course, light.
Now that you know what are the 4 types of light, you should ensure that you use the right kind of light for the proper purpose so that you enhance the livability of your home.
Frequently Asked Questions
Can I use all four types of lighting in a single room?
Sure! Some of the most appealing interior designs tend to use multiple types of lighting in a single room. Using the lights for their designed purpose can really add tons of depth and layers to a room.
What are some common mistakes to avoid when lighting a room?
Using a single light source in a room is only the most common mistakes I see people make. This makes rooms look bland and very typical. Using just one or two additional light sources can have a huge impact on the ambience of a room. If you don't have a knack for interior design, consider getting tips online from interior design subreddits or forum communities, or hire a local designer which fits your style.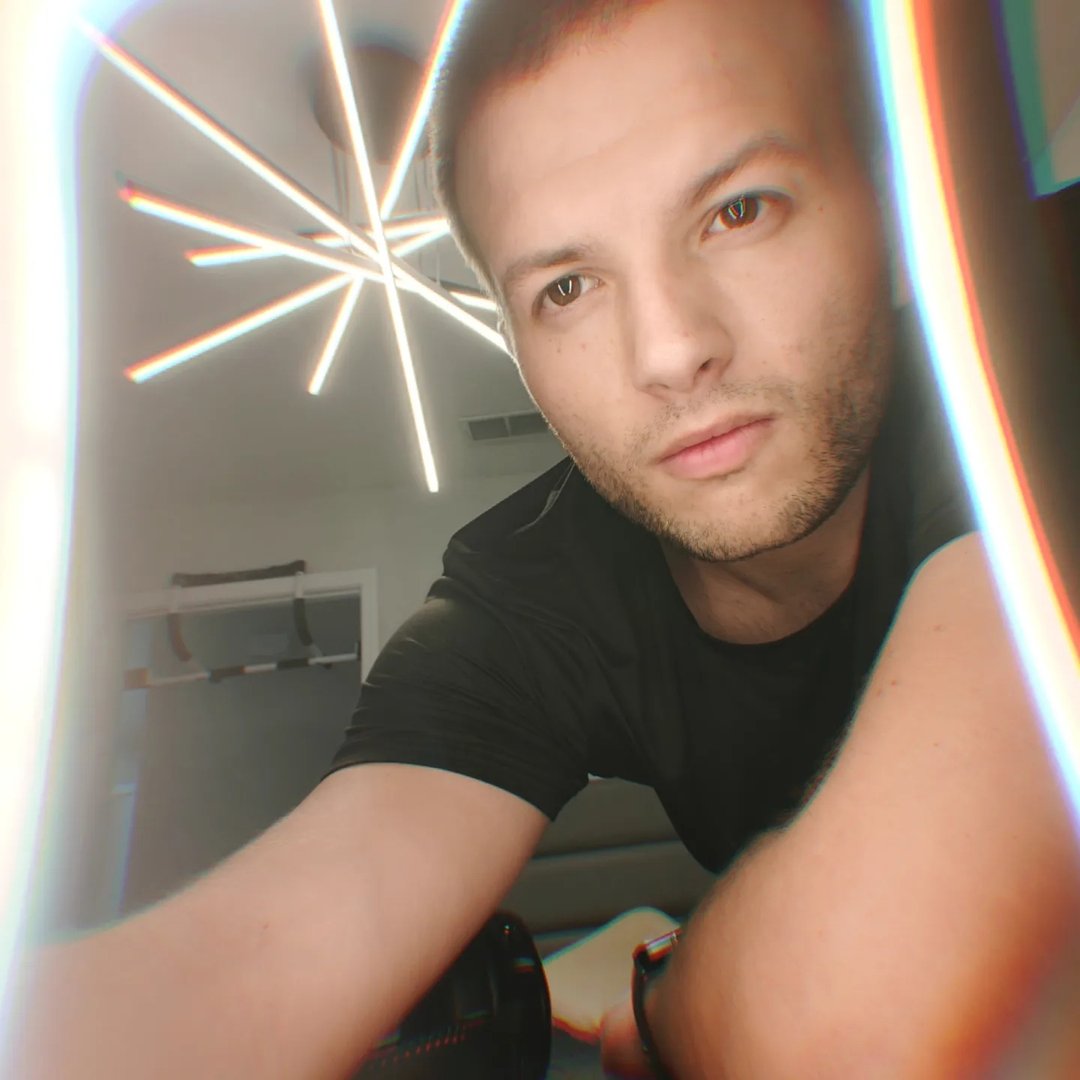 I have been the project manager for Modern.Place since early 2016, spending three of those years working overseas on the manufacturing & procurement side of the LED lighting industry. Constantly learning and passing on knowledge to others while excited for what the lighting industry will involve into next.