When purchasing lighting for a new warehouse or hangar, we see many customers confused by all the options available on the market. In this post we'll be listing the top pro's and con's of each type of warehouse light and going into the best options for each application. We've seen several people make terrible decisions based on either misinformation or investing into older technology.
First off, you might as well say goodbye to metal halide or fluorescent lighting if your upgrading your fixtures completely. In this day and age, you're just throwing away money if you're investing in outdated technology, especially with how cheap LED based options are. This is especially true when talking about wholesale ordering of lights as the prices just keep getting better and LED's keep becoming more and more efficient.
Types Of Warehouse Lighting
There are a few types of fixtures to choose from when it comes to high ceilings and large areas. Some are better fits for lower ceilings while others are designed for higher ceilings. Different designs also differ in the lumens per watt they provide so if you're going to run a tight ship, you'll have fewer options.
High Bay UFO Lights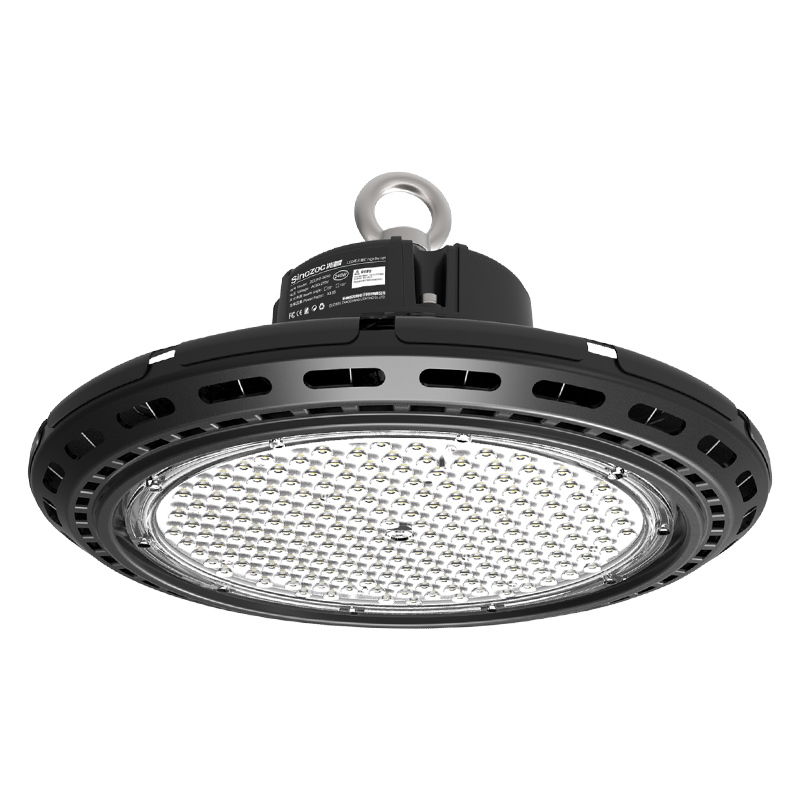 These lights are very low profile, come in a variety of beam angles and the most efficient option to choose. UFO lights are just that, they look like small extraterrestrial objects that pack a massive punch. They come in a variety of mounting options overall very versatile. These lights can be used in stadiums, hangars, and high ceiling area. They are typically rated at 50,000 hours and should come with a 5 year warranty. We ourselves offer a full replacement warranty on this style of lighting . UFO lights also range up to 170 lumens per watt, although the price tag of those models doesn't make them a smart investment at this time. The best balance of price and performance is around 130-140 lumens per watt.
High Bay Linear LED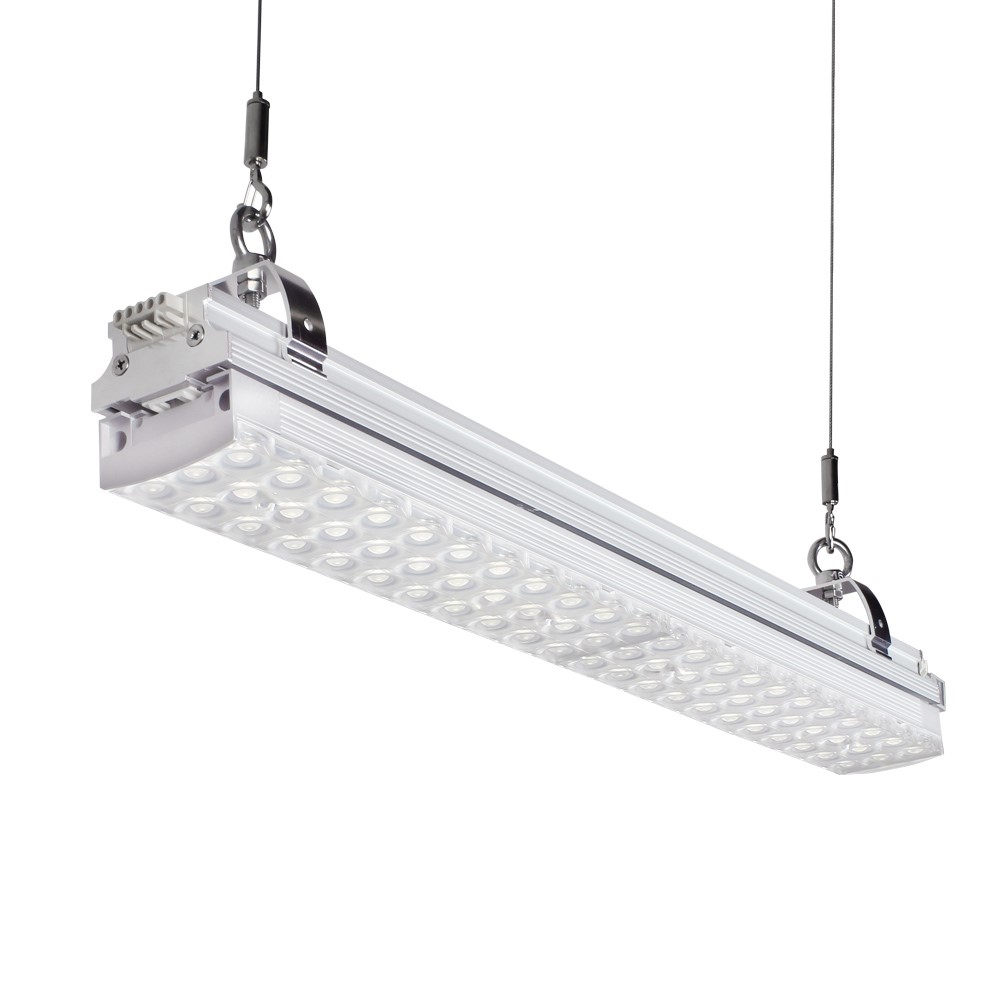 These lights are perfect for creating an even light distribution, such as having these in between your warehouse racks to light up the walkways. If you walk into your local home depot, you will see the fluorescent version of this style of light. If you have high stacked goods, these might be a better choice for you as they come fairly close in terms of specs & performance to the UFO lights with a more linear distribution of light.  Typically these fixtures will be easy to install and connect together to form a single line of light. As with any commercial purchase, we recommend making sure you buy fixtures with a 5 year warranty.
Low Bay Fixtures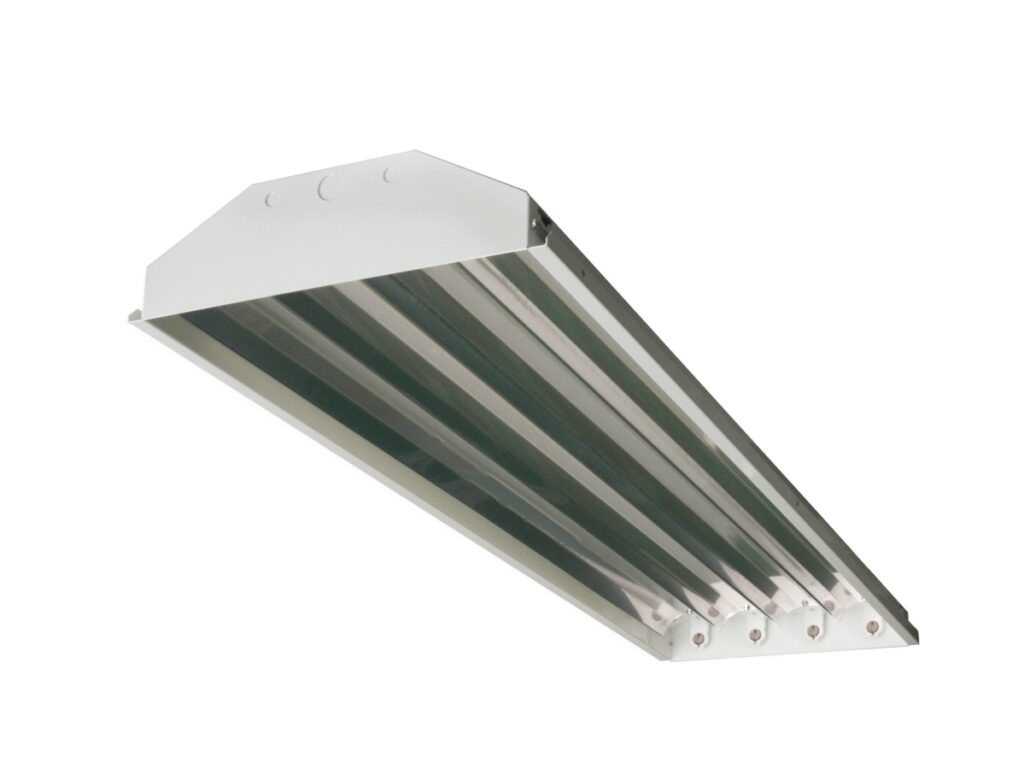 Low bay fixtures are meant for ceiling lower than 20 feet high. Typically these types of lights will go into smaller warehouses, shops, and lower ceiling stores. Many of the fixtures in circulation now are shop fixtures that just have fluorescent tube lights inside of them – we recommend replacing these with LED tubes instead which can be plugged right into the current setup for instant savings. This helps you save money on all new fixtures – this could save a large parking garage tons of money with a lot of the benefits.

There is several types of certifications that you should be looking for when purchasing lights, some more important than others. Here is a short breakdown of each of the certification. Some of these certifications are absolutely required for commercial building in the US or Canada.
UL & cUL Listing
This, or a comparable mark such as ETL is the most important of them all. UL is a safety standard that certifies a product as safe to use. cUL is the Canadian equivalent of the same standard. Some projects may require UL explicitly and will not accept ETL standard products – although the testing is the same.
DLC Standard and DLC Premium Listing
DLC is a testing criteria for product performance and energy efficiency. There is two versions of DLC listings, Standard and Premium – premium being a much more strict standard. Many utility companies will provide rebates for using DLC listed lighting through their programs. If not for the rebates, we highly recommend getting DLC listed due to the extra tests lights have to go through. All Modern Place commercial grade fixtures come with DLC listings.
LED Chip Brands
Another thing to take into consideration is the LED chip brand used in your lighting. You should pay attention to this as choosing a vendor that has a "no name" brand might leave you with a lot of dead spots or dead fixtures. Often the best brands come with a small premium but it's well worth the money.
Great Brands
Philips Lumileds (USA)
Epistar (Taiwan)
Cree (South Korean)
Osram (Germany)
Samsung (South Korea)
Good Options
Nichia (Japan)
San'an (China)
Ones To Avoid
Generic Brands
"White Label" Brands (they could be good, but don't risk it)